Golf & Lodging
Packages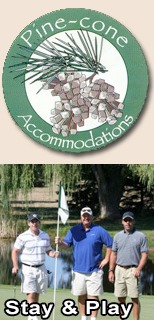 Pine Cone Accommodations Stay and Play Packages
Gaylord Area Golf Resorts
Treetops Resort
Designed by Masters, Played by Champions, Treetops is the name by which all other courses in Michigan are measured. It is on the short list of the nation's finest golf facilities. Dramatic views, contours and rolling terrain provide a beautiful setting for world-class golf. Treetops is truly the Midwest's must play resort. Treetops Resort features [...] more...
Otsego Club and Resort
Surround yourself with the natural beauty of Northern Michigan at the Otsego Club & Resort. Our 117 richly appointed guestrooms and suites offer you the comfort and convenience of a world-class resort that will provide you with an unrivaled vacation experience. Come experience all that Otsego Club & Resort has to offer! The Otsego Club offers [...] more...
Gaylord Area Golf Courses
Treetops – Jones Masterpiece
The final design of Robert Trent Jones, Sr. in Michigan is truly a masterpiece. In his own words, Jones claimed it his crowning glory. The course is located at the headwaters of the Pigeon River and takes full advantage of natural valleys, ravines and broad plains. The signature sixth hole [...] more...
Treetops – Fazio Premier
Premier is the only course in Michigan designed by famed architect Tom Fazio, making the most of the rolling terrain and striking the perfect balance between challenge and forgiveness. When asked to name a signature hole, Fazio replied, "All of them!" Treetops – Fazio Premier 3962 Wilkinson Road Gaylord, MI 49735 1-888-873-3867 Visit Treetops – Fazio [...] more...
Treetops – Rick Smith Signature
Rick Smith, renowned architect and golf instructor, set the bar high with Signature, his first 18-hole course. The course unfolds into high upland and features undulating greens and wide, forgiving fairways. Signature has been rated a Top 50 Course for Women. Treetops – Rick Smith Signature 3962 Wilkinson Road Gaylord, MI 49735 1-888-873-3867 Visit Treetops – [...] more...
Treetops – Rick Smith Tradition
Tradition is Rick Smith's walking course which pays homage to golf's origin, and is well named as it features traditional wooden pins and pennant flags. The links-style layout takes advantage of high ridges and hilltops, providing some sloping while still being walkable. Holes one through nine wrap back around to [...] more...
Treetops – Threetops Par 3
Rick Smith's first par three course has received national recognition since it opened, consistently ranking as the #1 par three course in America by Golf Magazine, Golfweek, Golf & Travel and several others. It's perhaps the most recognized par three course in America. For a number of years, Threetops hosted [...] more...
Gaylord Country Club
Founded in 1924, Gaylord Country Club is one of northern Michigan's oldest golf clubs. This semi-private club meanders through the hills and hardwoods just west of Gaylord and features private club conditions, strategic bunkering and arguably the best green complexes found in northern Michigan. Unlike today's modern golf courses, which can [...] more...
Otsego Club – The Classic
THE CLASSIC The Classic was designed by perhaps the country's finest golf course architect of his time, William H. Diddel, and became the founding course of the Gaylord Golf Mecca. The traditional, "Country Club" design of The Classic provides a no gimmicks honest approach to the game. The Classic is a favorite among golf course traditionalists, the [...] more...
Otsego Club – The Tribute
THE TRIBUTE Recently named the 8th Best Public Golf Course in Michigan by Michigan Golf Magazine, our newest masterpiece, a Robbins/Koch design, is an 1,100 acre tour of the majestic Sturgeon River Valley. Four to six tee boxes accommodate all levels of play, and the shear magnificence of the elevation changes, natural forestry and the flowing [...] more...
The Natural Golf Course
The Natural, located on the west side of Otsego Lake is very deserving of its name. This championship 18-hole golf course has been constructed on one of the most scenic sites in northern Michigan. The course was designed so golfers of different levels of ability could enjoy an exciting challenge amidst beautiful land of oak, [...] more...
Black Forest
Play Tom Doak's Stunning Black Forest Design, a Hidden Gem… If you appreciate classic design on land that was naturally destined to become a superb golf course layout, you'll want to play Black Forest again and again. It is one of those rare golf courses you can never tire of playing because it will present you [...] more...
Wilderness Valley
Serene and Sporty, the "Hidden Gem" of Gaylord Local golfers refer to Wilderness Valley as the "hidden gem." The Al Watrous-designed course does not garner the publicity of its much-tougher Black Forest sister layout, but it's plenty "hard enough for most people," according to David Smith, founder and owner. He also says, "Good players will have [...] more...
Black Bear Golf Club
Michigan's Only 19-Hole Golf Course… Yes, 19 Holes! At Black Bear, you get a free par 3 "Practice" hole prior to playing number 1. The remaining 18 championship holes offer some of the most diversified golf terrain in the state. A distinctive assortment of Scottish links style holes with traditional tree-lined Northern Michigan holes will inspire [...] more...
The Loon Resort – The Loon Golf Course
The Loon Golf Course – a Butch Harmon Signature Course The Loon reaches all levels of golfers with a combination of multiple tee areas and well designed bunkers. Since it's opening in 1994 this golf course has been what "Friendly Championship Golf " is all about. The Loon has generous landing areas, gently rolling fairways, large [...] more...
The Loon Resort – The Lakes Golf Course
The Lakes course is a favorite with all levels of players, offering six links-style holes, six holes set amid the natural setting with breath taking views and four holes that play around the beautiful Lake Michaywe. A course that is surrounded by rolling woodlands and water is a must play when visiting the Gaylord area Blue [...] more...
Michaywé Pines Golf Course
The Michaywe Pines Course features secluded fairways winding through beautiful white birch and pine forests along the AuSable River. Strategic bunkering and a minimum of water hazards add to the character of this unique classic style course. The Pines was the site for the 1991 and 1996 Michigan Amateur Championship tournaments. After 32 years, the Pines [...] more...
Black Lake Golf Club
Black Lake Golf Club – Rees Jones, Architect While many courses have two or three so-called signature holes that are worthy of brochure status, every hole at Black Lake Golf Club could easily be on the front cover of a magazine promoting the course.  That is one reason that it was placed #44 in Golf Digest's "100 Greatest Public Courses [...] more...
Elk Ridge
Challenged by few, Elk Ridge Golf Club continues to surpass every golfer's expectations of natural beauty, serenity and a course that offers the opportunity to play the true game of golf. Elk Ridge Golf Club, opened May 1991, proves to be the benchmark of quality and conditions when is comes to public golf courses. Designed by [...] more...