Listed in Golf Lodging, Motels, Snowmobile Lodging, Vacation Rentals
693 Charles Brink Road, Gaylord, MI 49735
866-731-1887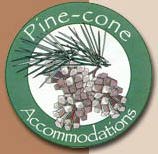 The Gaylord Area boasts countless recreational opportunities, be it golf, skiing, hiking, fly fishing, canoeing, or snowmobiling. When you visit our beautiful north country, why not treat yourself to the comfort and relaxation of one of our vacation rental properties. Pine Cone Accommodations will take care of your exact needs, no matter what size your group. We Start Your Vacation Before You Do!
Pine Cone Accommodations
693 Charles Brink Road
Gaylord, MI 49734
1-866-731-1887
Pine Cone Accommodations Stay and Play Packages
Come Stay & Play with us in Gaylord Choose Your Lodging & Golf 6, 8, 12, 16 individual beds 17 Area Golf Courses Customized to your needs What Are You Waiting For? Book your golf outing today by calling: 1 (866) 731 -1887 PLEASE CHECK THE WEBSITE FOR LATEST RATES <> Stay & Play – Choose Your Lodging & Golf                         6, 8, 12, 16 [...] more...