Listed in Motels
881 South Otsego Avenue, Gaylord, MI 49735, USA
(888) 321-2606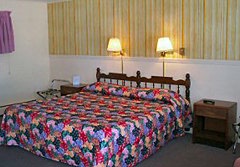 The Timberly Motel welcomes you to northern Michigan's heart – the Alpine Village of Gaylord. While staying with us, take advantage of a variety of local attractions, many local events, picturesque scenery and the charming downtown shopping district. Shoppers will enjoy browsing through the unique stores clustered along Main Street.
We invite you to come and sample our breathtaking summer sunsets, stunning fall colors and the spectacular snow scenes only Northern Michigan can offer. As a family, as a couple, as an individual, explore our playground. Choose to unwind on our sun-drenched beaches, or pick up the pace a bit and pedal along a country road
New! Free Wi-Fi Internet to all rooms!
Our 30 clean comfortable rooms offer King & queen size beds * Color Cable TV * Full bathrooms with tub showers * Air conditioning * Individually controlled electric heat * Direct dial phones * Fax service available * Private outside entrances * Smoking and non-smoking rooms * Guest rooms, suites & (2) two bedroom units. Snowmobilers can ride directly to the trails from the Timberly Motel.
Timberly Motel
881 S. Otsego Avenue
Gaylord, MI 49735
(888) 321-2606