La Senorita Mexican Restaurant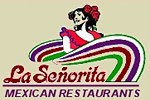 La Senorita is the place to go for authentic Mexican food in Gaylord. Enjoy La Senorita1s Famous Sizzling Fajitas and thirst-quenching, ice-cold Jumbo Margaritas along with delicioso Mexican favorites including burritos, enchiladas, chimi chungas, and tacos. American fare is also available for those who prefer food from North-of-the Border.
La Senorita is a great family restaurant with a complete children's menu, toys and favors, and the Sombrero Sam Little Amigos Birthday Club! And La Senorita has a Margarita Sports Lounge with great specials every night.
La Senorita Mexican Restaurant
737 W. Main St.
Gaylord, MI 49735
989-732-1771