Alpine Tavern and Eatery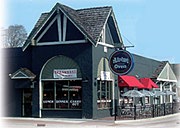 Great Food, Fast in downtown Gaylord. Counter Service Restaurant with carryout & in house seating. Specializing in Gourmet Pizza, chicken, fish, sandwiches, salads, beef briskets and homemade sundaes and pies. Great Alpine Theme – WiFi – Flat Screen TV – Watch all the games – many original recipes. Serving breakfast, lunch and dinner.
The Alpine Tavern family has over 50 years of combined experience providing excellent service in restaurants. They invite you to bring your family and meet your friends for award winning chili, gourmet pizzas, burgers stuffed any way you'd like, hand cut fries, slow roasted brisket and fresh, healthy salads. Try one of Chef Jason's daily specials or something light from the "biggest loser" menu. Everything is house made and we are committed to serving michigan-made products whenever possible.
For more refreshment, there's a selection of craft beers, wine and spirits, specialty cocktails and hot coffee drinks.
Come to Alpine Tavern and Eatery for the fabulous food and drinks. Stay to watch all of the big games on our many tv's, or pick up something good to eat to take home.
Alpine Tavern and Eatery
220 S. Otsego
Gaylord, MI 49735
(989) 732-5444