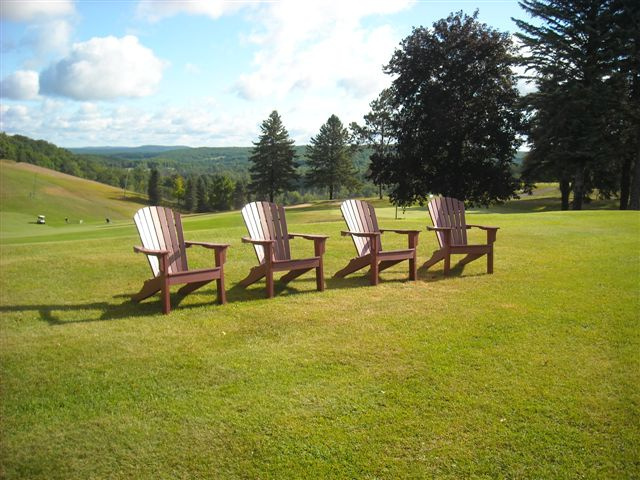 This is "God's Country." Here – in Gaylord, in Otsego County – you can kick back and take in the beauty that is Northern Michigan: shimmering lakes, flowing rivers, wildernesses, scenic trails and great golf.
As a family, as a couple, as an individual, explore nature's playground in the north. Choose to unwind on our sun-drenched beaches, or pick up the pace a bit and pedal along a country road.
Or set up camp at one of our inviting campgrounds; launch a boat on one of our sparkling lakes; cast a line into our clear waters to reel in relaxation, and quite possibly a fish. Sample true hospitality — northern style.
In cozy hamlets and quaint shops or in bustling resorts and charming cafes, you'll be greeted by friendly folks who'll invite you to return for yet another season in "God's Country."
Downtown Gaylord – The Alpine Village
Downtown Gaylord is a unique shopping area that will make you feel as if you've stepped into one of Switzerland's Old Town districts! It's a great place to shop, dine and socialize! You'll find sporting goods, kitchen items, specialty foods, antiques, books, yarn, fabric, tropical fish, clothing, shoes, jewelry, games, furniture, chocolates, ice cream, home decor, great dining, & much more!
Explore downtown Gaylord! Cheerful, friendly, and service-oriented retail shops and restaurants await your visit.
The natural setting of the Gaylord Golf Mecca is both awesomely beautiful and challenging to golfers of every skill level. Northern Michigan's rolling terrain was sculpted by the glaciers millions of years ago and today is dominated by majestic forests and sparkling lakes and rivers.
Gaylord Area Golf Courses
It was this dramatic setting that attracted some of the most prestigious names in golf course design in the world. Robert Trent Jones, Jr., Tom Fazio, William Diddel, Jerry Matthews, Tom Doak and Al Watrous have all designed signature courses in the Gaylord Area. Once you've seen it, you'll understand why Gaylord has earned the national reputation for outstanding golf.
Gaylord Area News And Special Events
Gaylord Alpenfest – July 9 – 13, 2019
[ July 9, 2019 to July 13, 2019. ] Gaylord, a vacation destination in central northern Michigan, will be hosting its' 55th Annual Alpenfest® on July 9th – 13th, 2019. Alpenfest® attracts not only local residents but also frequent vacationers enjoying the beautiful Michigan summer days. Additionally, it is Gaylord's unofficial annual homecoming weekend, with former residents returning to enjoy the festivities. Expect five days of festivities [...] more...
Wings Over Northern Michigan – Gaylord! – June 16 & 17, 2018
[ June 16, 2018 to June 17, 2018. ] Gaylord Regional Airport Presents the 2017 Wings Over Northern Michigan Air Show @ the Gaylord Regional Airport, 16 & 17, 2018, with Air and Ground performances! Something to do for everyone in the family! Enjoy the wide variety of vintage warbirds, modern military aircraft, high speed passes, aerobatics, civilian general aviation aircraft, and military and emergency [...] more...
2018 AuSable River Canoe Marathon – July 28 – 29, 2018
[ July 28, 2018 to July 29, 2018. ] The 71st annual running of One of the Greatest Canoe Races on Earth - The AuSable River Canoe Marathon - is upcoming July 28-29, 2018. Known by its legions of die-hard fans simply as "The Marathon", this event is one of the original ultra-endurance events in North America. The Marathon is also the middle leg [...] more...
Gaylord Area Featured Lodging
Pine Cone Accommodations
The Gaylord Area boasts countless recreational opportunities, be it golf, skiing, hiking, fly fishing, canoeing, or snowmobiling. When you visit our beautiful north country, why not treat yourself to the comfort and relaxation of one of our vacation rental properties. Pine Cone Accommodations will take care of your exact needs, no matter what size your group. [...] more...
The Waters Inn
Just off I-75 at Exit 270 on Old US-27, the Waters Inn is The Peaceful Alternative, with access to everything the Gaylord area has to offer, without the traffic, noise and neon. On the snowmobile trail, and a nine iron from dozens of lakes and golf courses.Ten Exclusive Themed Rooms, with in room phones, refrigerators, [...] more...
DerMiner's Parkside Resort
A wonderful getaway awaits you at DerMiner's Parkside Resort in Gaylord. Located on a private road are four (4) beautifully renovated two bedroom cabins nestled between Otsego Lake and snowmobile trail #7. Cabins comfortably sleep 6 – Full size bed, twin bunk beds and a full size sleep sofa. No need to [...] more...
Hampton Inn – Gaylord
I-75 Exit 282 south on Dickerson Rd. – brand new accommodations in Gaylord – 83 rooms – whirlpool rooms – meeting facility – complimentary continental buffet – indoor pool / whirlpool – exercise/game room – guest laundry – in room movies, coffee maker & blow dryer – access to snowmobile trails – customized golf and [...] more...
Treetops Resort
Treetops features 238 guest rooms, including standard and deluxe hotel rooms and two- and three-bedroom condominiums. Nearly every room takes advantage of our majestic setting and offers sweeping vistas of ski hills, golf courses, pristine woods or wetlands. Comfy, cozy Lodge rooms with a host of creature comforts. The Lodge features a lobby that's the perfect place [...] more...
Heart Lake Resort Cottages
Our cottages are located just south of Gaylord on quiet and clear Heart Lake in beautiful Otsego County. The seven updated cottages of Heart Lake Cottages are situated among tall pines, oaks and maples on the west shore of Heart Lake where sunrises can be spectacular. Clean water with an excellent sandy-bottom protected swimming area and [...] more...